Kilt Hose & Flashes

1500 Line of kilt hose, made of 70% Wool, 30% Nylon $26.99 pair

available in size Small , Med or Large

| | | |
| --- | --- | --- |
| | | |
| Black Kilt hose | Charcoal Kilt Hose | Ecru Kilt Hose |
| | | |
| Lovat Blue Kilt Hose | Navy Kilt Hose | Stone Kilt Hose |
| | | |
| Lovat Green Kilt Hose | Bottle Green Kilt Hose | You will be able to specify the size on the shopping cart page in the input box of the form. |

2000 Line of kilt hose made of 70% Wool, 30% Nylon $26.99 per pair
available in size Small , Med or Large
| | | |
| --- | --- | --- |
| | | |
| Thistle Kilt Hose | Red Lion Kilt Hose | Blue Lion Kilt Hose |
| | | |
| Masonic Kilt Hose | Shamrock Kilt Hose | You will be able to specify the size on the shopping cart page in the input box of the form. |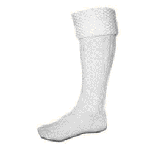 New - 0900- Piper Hose
available in White, Ecru (cream), Lovat green, Lovat blue, Navy or black
80% Acrylic 20% Nylon ( white) , 40% Wool, 40%Acrylic, 20% Nylon ( Ecru)
70% Wool,30% Nylon ( black )
$39.99 per pair
NEW- Bright White Popcorn Top Kilt Hose
85% Acrylic, 15% Nylon available in sizes small to extra large
$59.99 per pair
Off White Economy Kilt Hose Style 0175
Available in sizes small through large.
25% Wool,25% Acrylic, 20% Nylon, 30% Polyester
$16.99 pair
If you need more imformation on any of the products shown please call us at
270-886-2010 or contact us by E-mail by using the form on the
Contact Us
page of this site.


A-008-3 Wool hose flashes : available in red or green $14.95 per pr.




A-008-G Grosgrain hose flashes : navy,antique blue,black,gold,red or green $18.95 per pair

Tartan Hose Flashes ( not shown ) Made to order.

KGFT: Tartan Falshes $39.99 per pair