Tartan Blankets & Rugs

( The tartan shown at left is that of Clan Wemyss )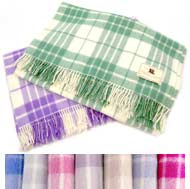 The full size Fraser Pastels are woven in the pattern of the Fraser Tartan, but the colors are white and pastel. In the following colors: blue, grey, rose, plum camel, pale blue, fuchia, lilac, green. Not all colors available at all times.
Fraser Pastel Wool Blanket $69.99 each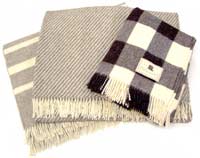 The Natural Designer blankets feature pleasing neutral colors in grays and browns in a variety of patterns. Full size checkerboard and other designs in 90" by 56".
Natural Colored Designer Blankets $84.99 each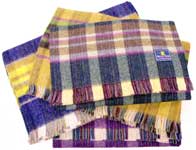 The Random Check blankets are an economical series in assorted "random" colors. Size aprox.45"x58".
Randon Checks Blankets $39.99 each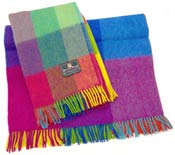 The Harlequin line features vivid, vibrant colors in both full size and lap size verisons. Full size aprox. 90"x56", Knee rug aprox. 45"x56".
Full Size Harlequin Blankets $79.99 each
Knee size Harlequin Blanket $44.99 each
Tartan blankets and thrws are special order and may take 4-6 weeks for delivery.
All selection are made of 100% new wool.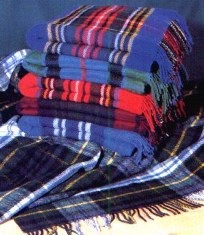 SITR: Traveling rug AKA Stadium blankets $139.99
Size 56"x72" with 3.5" fringe on ends.100% New Wool.
Please order by clan name by inputing the name on the shopping cart page.
Available in the following Scottish tartans,,,
Anderson, Armstrong, Austin, Baird, Black Watch*, Buchanan Modern, Cammeron of Erracht*
,Campbell Dress Modern, Campbell Clan, Clergy, Douglas*,Farquharson, Ferguson, Fraser Red Dress, Glasgow, Gordon Clan, Gordon Dress, Graham of Mentieth, Graham of Montrose, Gunn Modern, Grant Clan Anc., Hunter, Johnstone, Kennedy, Lindsay*, MacBeth, MacDonald Clan*, MacDougall, Macfarlane, MacGregor, MacIntosh Red, MacKay, MacKenzie*, MacLean of Duart, MacLaine of Lochbuie, MacLeod of Harris, MacNeil of Barra, MacPherson*, MacRae, Murray of Atholl, Robertson, Ross Hunting, Smith Modern, Stewart Dress, Stewart Hunting Modern, Stewart Royal Modern, Sutherland Old, Wallace Mod, Wallace Htg. Wilson Anc.
Full Size : 56"x72". 100% new lambs wool. $139.99 each