Womens Kits & Skirts

Made to order Ladies fashions in tartan fabrics are now available for custom order. Available in most Clan names, a variety of styles and lengths. Each is custom tailored to your measurements.Because many of the tartan fabrics are of complicated design we have shown the images here in B+W line drawings to show the styling without distractions by way of color.

We require three measurements when ordering. 1.Natural waist,2. Natural Hip, 3. Length. Because each is hand pleated and made to measure please allow up to 8-10 weeks for delivery. Delivery on some tartan styles may be made quicker depending upon availability of the fabric at the warehouse.Please use the Input space on the order page to add measurements and tartan selection.
To view the selection of tartan available please see the
Tartan List
page of this site
The Traditional Kilted Skirt
Available in more then 500 tartan fabrics.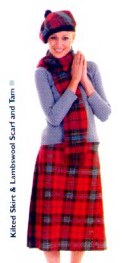 Hand pleated and custom tailored.
Max. length 29" Max hip 44"
Standard $289.99 each
Hand pleated and custom tailored.
Max. length 41" Max hip 44"
Hostess $399.99 each
New: The Fiona Skirt
An all around pleated skirt that is fully lined.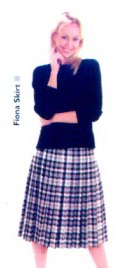 YSF: Fiona Skirt , all around pleats , fully lined.
Fiona $349.99 each
New: The Laura Skirt
Simple yet sophisticated straight skirt with one back vent.
Reiver Fabric
,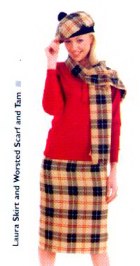 Laura $219.99 each
New : The Billie Skirt
A stylish mini skirt in your choice of tartan with the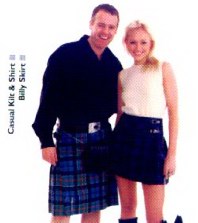 Billie Skirt : $149.99
New : Tartan Mini Skirt
A traditional mini skirt made to measure in your choice of tartan.
Reiver Fabric
,
Mini Skirt $219.99 each
If you need more imformation on any of the products shown please call us at
270-886-2010 or contact us by E-mail by using the form on the
Contact Us
page pf this site.